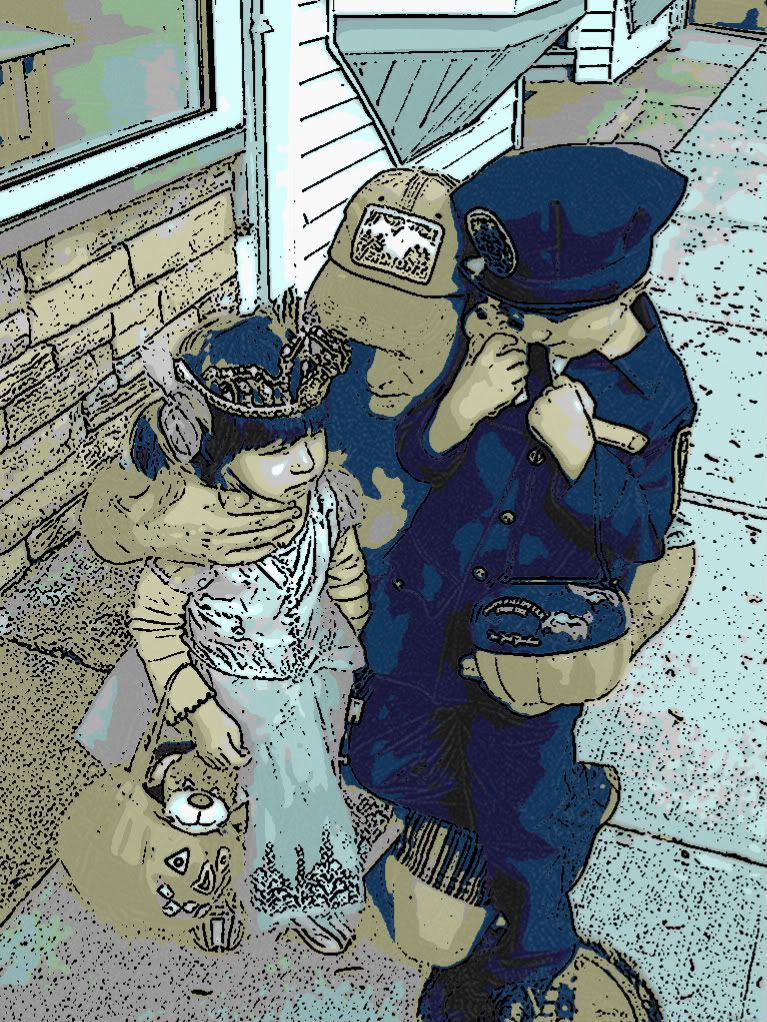 -Milk Man trick or treating with the kids...
A blogger I follow named
Todd
has a great post today, and he reminded my foggy brain that it is The Day of St. Joseph, one of my favorite saints. St. Joseph was a carpenter by trade, with a royal ancestry. I've said before that St. Joseph is the ideal husband because his actions encompass the meaning of true love as expressed by St. Paul in his letter to the Corinthians. ("Love is Patient, love is kind...")
Joseph loved Mary, Jesus' mother unconditionally. He cared for her and protected the child Jesus. His deep compassion and faith is reflected in his actions as a husband and father. His trust in God is exemplified very clearly twice: first, his choice to marry Mary, who is pregnant and then to stay in Egypt after the birth of Jesus to protect the child from Ceasar. In both instances, he relies on messages of angels in his dreams.
Clearly, St. Joseph the man is reflected in the character of the adult Christ. No one expected a simple, poor man living in obscure town was raising the Son of God. In his adult ministry, Jesus held a special compassion for the poor and lowly. No doubt his priorities were formed by Mary and Joseph who raised him to be humble. St. Joseph walked the walk, as they say.
In his blog post Todd talks about his disappointment in the growing number of fathers who do not honor their roles as parents and husbands. He mentions his own struggle to be a better father and husband, and to find balance between family time and work, (although it looks like he is too hard on himself). I know his feelings are shared by my own husband. The pressures of starting a new job and finishing a Doctoral degree has put a great strain on our family life, as it has required a tremendous amount of time and energy from my husband. Although the hard work is leading our family
to a more secure situation financially, we have scrambled to keep our priorities straight. The draining pursuit of work has caused some suffering.
In spite of the stress of finding a balance, one of my husband's most endearing qualities is that he listens, he helps, and makes a visible effort to improve the situation. Even though he is over-scheduled, he will drop everything and drive an hour home to eat with his family when he has to return later. The first thing he did last night when he came home was clean the toys up in the den for me. It was such a relief to come downstairs and find the den
clean
. He tries to find balance, and he is aware of what is truly important. That's a good start toward "walking the walk" and becoming more like St. Joseph.
St. Joseph is the patron Saint of the dying, social justice, the universal church, fathers and carpenters. His feast day is today, March 19th.